Many new cruisers that I talk to are wary of sea days – and it's completely understandable. Cruises are a wonderful way to see multiple destinations all from the comfort of one cabin (and only one time unpacking).
But focusing too heavily on the ports of call, and not on everything your cruise ship has to offer would be a mistake. Cruise lines have put some serious creativity and thought into making sure your on-board experience is an memorable as the ports that you visit.
With a little bit of planning, your cruise's sea days can be so enjoyable that you'll be hooked on cruising for good.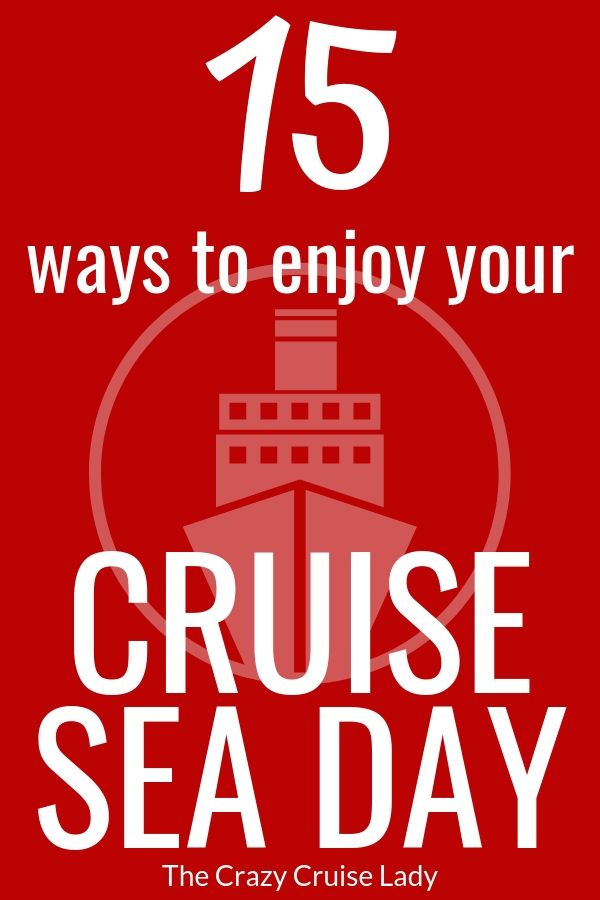 What to expect on cruise sea days
All cruise lines and ships offer a little bit of a different experience. Depending on your cruise ship, you may find different options available. In this post, I'll share sea day options that are common across the major cruise lines.
Planning for your cruise sea day
There are two ways to stay connected to your ship's entertainment and dining offerings:
1 – Check your cruise daily bulletin or planner
Each day, there will be a cruise bulletin published. It's a sort of newsletter containing that day's schedule, special announcements, weather forecast, etc. Usually your cabin steward leaves this in your stateroom during evening turndown, giving you plenty of time to review everything before the nest day. This is a great way to find out what activities are going on that may peak your interest.
Poolside yoga at 7:00? Trivia at 2:00? Wine tasting at 4:00? It's all listed there for you to choose from.
My personal cruise travel tip: Bring a highlighter to mark off the things you'd most interested in attending. I like to do a quick review at night before I go to bed, and again in the morning at breakfast.
2 – Use your cruise line's app for activities and times
Many cruise lines now offer a smartphone app to download. Here you can check the daily planner. I'm personally a pen-and-paper gal. But if you're more tech-savvy than I am, using the app may be a better way to go.
15 Things to Do on a Cruise Day at Sea
1 – Make it a Pool Day
Most major cruise lines have at least 2 pools on their – and sometimes even 3 or 4 ! There are pool options for everyone – adults only for a quieter experience, a main pool where music, entertainment, and friendly competitions take place, and even splash pads or water slides for the kids (and kids at heart).
Just remember – the pools can get crowded on Sea Days and beach chair space is at a premium. Get out to the pool deck early, and remember to check your ship's policies for reserving chairs.
If you're the outgoing type, the main pool is the place to be. Cruise staff host games and competitions – all in good fun. See who has the best "dad bod" or belly flop!
Don't forget your towel clips to keep your towel from blowing away with the sea breeze !
2 – Learn Something New
Take a break from the sun and head indoors for a bit. Many cruise ships offer seminars and workshops on a variety of topics – art, health and wellness, are just a few.
3 – Get in some Exercise on your day at Sea
Your ship's fitness center and gym is sure to impress even the most dedicated gym rats. Get in your usual workout, or try a new fitness class. A variety of classes are usually offered, ranging from Zumba to yoga, stretching, cycling, and more.
If you're not up for a big workout, take in a walk. Most shops have a lap track, so walk off all of that cruise food while taking in breathtaking ocean views and fresh sea air.
4 – Try something more adventurous
Say goodbye to shuffleboard. Hello: rock climbing, zip lines, ice skating, sky-diving, water-slides, and surf simulators.
Cruise tip: Remember that not all ships have each activity. If you're looking for a more active vacation, be sure to check out your ship's features and activity offerings before booking your cruise.
5 – Play some Games
BINGO, scavenger hunts, trivia, and game show-style games are a fun way to pass the time, especially when the weather is poor or you've had as much sun as you can take.
6 – Pamper Yourself
In addition to spa services like massages and facials, many ship spas also employ chiropractors and acupuncturists. Take some time this trip to truly unwind and treat yourself.
Cruise Tip: Ships often run promotions if you sign up for spa services on embarkation day. So be sure to check out the cruise ship spa on the first day of your cruise.
7 – Send the Kids off on their own
Are you cruising with kids? Send them off to the kids club where they can make new friends and participate in a variety of fun activities. Many ships divide out by age groups, so kids have age appropriate activities and playmates. It's a great way for them to burn off some energy, while the adults can get alone time too. Win-win.
If this is an important ship feature, be sure to do your research on the most kid-friendly ships around.
Cruise tip: Make sure to visit the kids club together and sign up on the first day of the cruise. This way they'll be more comfortable and more likely to want to attend activities later in the week.
8– Check Out Dining Options
Many ships offer expanded dining options on sea days, and it's more than a themed buffet. I'm taking about high tea, guacamole workshops, wine tasting, cocktail hours. You name it.
Lunch on sea days is also a great time to try out one of the specialty restaurants on board, as it's often cheaper than dinner dining.
Drink of the Day – If you would like to indulge in an "adult beverage", this is a don't-miss item. Cruises often have a promotional drink of the day, on "special" at the pool bar. Sometimes, cruise ships will even have Buy One Get One (BOGO) specials at certain times of the day, so watch your cruise planner for the details.
9 – Hit the Slots
The ship's casino is a popular place to be on sea days, so if gambling is your thing – don't miss out!
10- Catch a Movie
There's nothing like curling up poolside and watching a movie. We're a big drive-in movie theater family, so this was right up our alley. Some ships also have an indoor movie theater, so be sure to check that out.
11 – Take in a Show
Many larger ships offer multiple show times to accommodate everyone who wants to see a show. A sea day is a great day to catch a matinee, and still be in bed for a good night's sleep before the next day's adventures. Be sure to check your cruise planner or pre-book online if your ship offers this feature.
12 – Attend a Cruise Port Lecture
Not sure to expect at your next port of call? Cruise port lectures are often held in the ship theater or lounge, and they give valuable information and recommendations on how to spend your day in port.
13 – Take a Behind-The-Scenes Ship Tour
Bridge tours and Cruise galley tours are great ways to learn about the behind the scenes stuff that cruise passengers don't usually get to see. Check your daily bulletin and be sure to sign up, since space is often limited.
14 – Document Your Voyage
This is a great time to take all of those Instagram-worthy selfies and family vacation shots. No one is rushed to get back to the ship, so you can take your time to get just the right shot.
15- Book Your Next Cruise
If you're new to cruising, this may sound crazy, but trust me. There are advantages. Many cruise lines will give you a significant on board credit (for this cruise or next) just for booking on board. Not sure where you want to cruise next? Don't worry! You can often put a deposit on an open booking and choose your trip later.